Lake Winn Resources Corp. to Present Little Nahanni Lithium Project at PDAC 2023 Booth 2103
Vancouver, B C – TheNewswire – March 3, 2023 – Lake Winn Resources Corp. (" Lake Winn " or the " Company ") (TSXV:LWR.H) (FSE:EE1A) is pleased to announce attendance at the Prospector and Developer Association of Canada conference ("PDAC") booth 2103 Toronto, Ontario March 5 th -8 th , 2023. Held at the Metro Toronto Convention Center, PDAC is the world's premier mineral exploration and mining convention and is the leading event for people, companies, and organizations connected to mineral exploration (see pdac.ca for more information). The Little Nahanni Lithium project ("LNLP") located in the Northwest Territories on the NWT/Yukon Border covers a 13km long, and up to 500m wide, lithium, cesium, and tantalum ("LCT") pegmatite vein swarm with many individual mineralized veins up to 5m thick. The project has had historic drilling and channel sampling that confirm significant lithium, tantalum, cesium, and tin. An example of the core will be at the company booth in the investor section of the PDAC.
Based on the encouraging historic results and the large footprint of this LCT pegmatite system, Lake Winn is currently conducting the following activities in preparation for an estimated 4,000m drill program:
Permitting
A road access study
Satellite Radar study
SQUID Magnetometer 75m close space airborne geophysics
Geologic AI scan of the existing historic drill core
Targeting
These are all well underway, most notably, results for approximately 25% of the SQUID magnetometer survey have been received and released ( see Press Release dated January 26 th , 2023 ).
The preliminary data has shown striking linear magnetic responses, with one zone lining up with the known pegmatite trend (see Figure 1). and with a second stronger linear anomaly with no known geological explanation. Field crews will be deployed to investigate this potentially new area of mineralization. Based on these preliminary results the company has staked additional ground to the east and south.
Lake Winn has been informed by the contractor that the survey will recommence on March 15 th , with final results anticipated before the end of the month.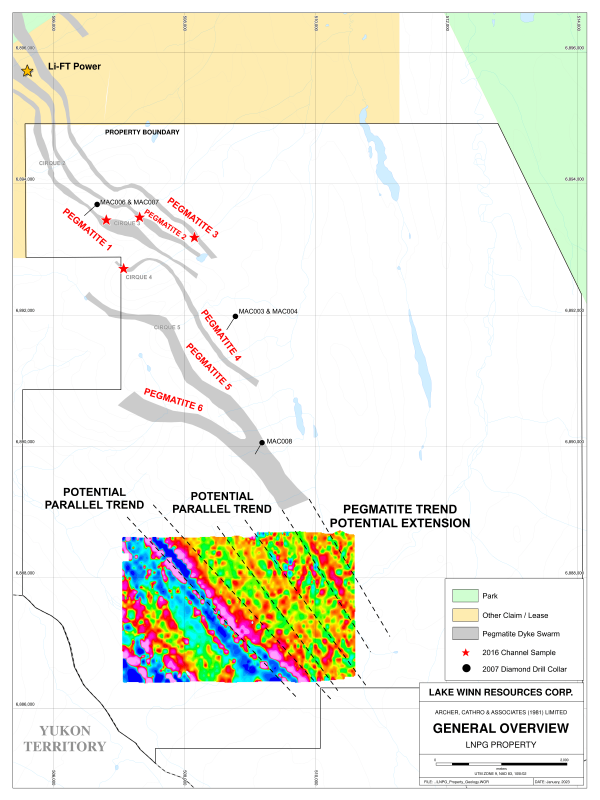 Click Image To View Full Size
Figure 1: Previous Magnetometer Representing Approximately 25% of the Property. Close-up of previously completed magnetometer data.
Lake Winn is working with Archer Cathro & Associates to manage the exploration program. Archer Cathro has unparalleled experience in the Canadian North, with their partnership the Company has commenced permitting, and First Nation permissions in support of the planned 4,000m drill program.
Qualified Person
The Qualified Person for this news release is Buddy Doyle, AUSIMM, a Geologist with over 35 years of experience in mineral exploration, discovery, and evaluation. A Qualified Person under the provisions of the National Instrument 43-101.
About Lake Winn
Lake Winn Resources Corp., is a mineral exploration company, focusing on advancing its' 100% owned Little Nahanni Lithium Project, Northwest Territories, Canada.
ON BEHALF OF THE BOARD OF DIRECTORS OF LAKE WINN RESOURCES CORP.
Patrick Power, President & CEO
+1 (604) 218-8772
www.lakewinn.ca
Neither the TSX Venture Exchange nor its Regulation Services Provider (as that term is defined in the policies of the TSX Venture Exchange) accept responsibility for the adequacy or accuracy of this release.
Cautionary Statement Regarding "Forward-Looking" Information
This news release contains "forward-looking statements" including but not limited to statements with respect to Lake Winn's plans, the estimation of a mineral resource, and the success of exploration activities. In this release, it is not certain if the kimberlite discovered will be economic or not as this depends on many factors. Forward-looking statements, while based on management's best estimates and assumptions, are subject to risks and uncertainties that may cause actual results to be materially different from those expressed or implied by such forward-looking statements. There can be no assurance that such statements will prove to be accurate, as actual results and future events could differ materially from those anticipated in such statements. Factors that could affect our plans include our potential inability to raise funds as intended, and in such event, we may require all funds raised, if any, to be used for working capital rather than the intended uses as outlined. Accordingly, readers should not place undue reliance on forward‐looking statements. Lake Winn Resources Inc. undertakes no obligation or responsibility to update forward‐looking statements, except as required by law.
https://www.zimtu.com/wp-content/uploads/2020/09/Zimtu-logo.png
0
0
JJ Pistawka
https://www.zimtu.com/wp-content/uploads/2020/09/Zimtu-logo.png
JJ Pistawka
2023-03-03 08:22:21
2023-03-03 08:22:21
Lake Winn Resources Corp. to Present Little Nahanni Lithium Project at PDAC 2023 Booth 2103