Homerun Resources Inc. Applicaiton for New Concessions in the Belmonte Silica District
Vancouver, B.C.: Homerun Resources Inc. ("Homerun" or the "Company") (TSXV: HMR) (OTCQB: HMRFF) is pleased to announce that the Company has made a new application to the Agência Nacional de Mineração (ANM) to increase its presence in the Belmonte Silica District in Belmonte, Bahia, Brazil, near the Port of Ilheus. The application comprises four new concessions totaling 7,930 hectares. The concessions surround the quartzite stone quarry operations of Saint Gobain (Brazil) in the Belmonte Silica District. The application is a further step in the Company's continuing strategy to expand its presence and opportunities within the District.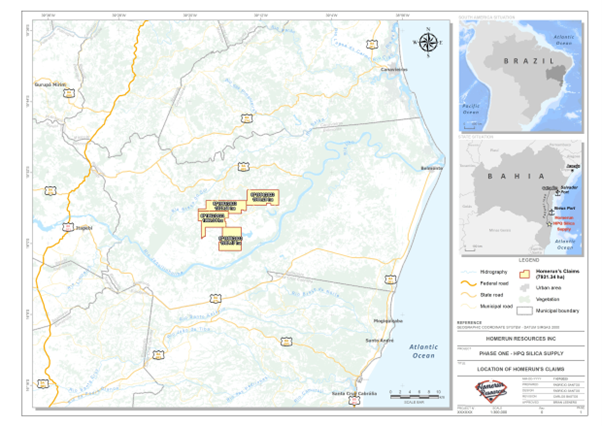 About Homerun Resources
Homerun Resources is focused on the development of its business within the critical and energy materials sectors.  With a steadfast commitment to operational excellence, sustainability, and building shareholder value, Homerun Resources Inc. is poised to make a lasting impact in these industries.
On behalf of the Board of Directors of
Homerun Resources Inc.
"Brian Leeners"
Brian Leeners, CEO & Director
brianleeners@gmail.com / +1 604-862-4184 (WhatsApp)
FOR THE ADEQUACY OR ACCURACY OF THIS RELEASE
The information contained herein contains "forward-looking statements" within the meaning of applicable securities legislation. Forward-looking statements relate to information that is based on assumptions of management, forecasts of future results, and estimates of amounts not yet determinable. Any statements that express predictions, expectations, beliefs, plans, projections, objectives, assumptions or future events or performance are not statements of historical fact and may be "forward-looking statements.
Neither the TSX Venture Exchange nor its Regulation Services Provider (as that term is defined in policies of the TSX Venture Exchange) accepts responsibility for the adequacy or accuracy of this release.
https://www.zimtu.com/wp-content/uploads/2020/09/Zimtu-logo.png
0
0
Colton Griffith
https://www.zimtu.com/wp-content/uploads/2020/09/Zimtu-logo.png
Colton Griffith
2023-11-09 08:12:50
2023-11-09 08:12:50
Homerun Resources Inc. Applicaiton for New Concessions in the Belmonte Silica District